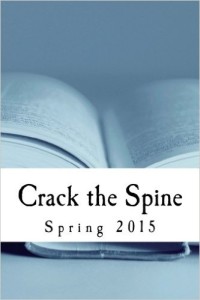 Crack the Spine. Bend a fresh book until your hands meet beneath its stressed strings. Feel the weight of words snap free.
This anthology includes the best poetry and prose from Crack the Spine Literary Magazine's weekly publications.
Authors: M. David Hornbuckle, Catherine Gonick, J. Edward Kruft, Priscilla Frake, Melissa Tombro, Ani Tuzman, Robert McKean, Marie Lecrivain, T.A. Stanley, Saudamini Siegrist, Vincent Barry, Dvorah Telushkin, Karen Hildebrand, Judith Thompson, Gwendolyn Edward, Chris Ozog, Daniel Davis, Ron Riekki, Dusty Cooper, Garrett Hines, Lisa C. Taylor, Ken Haas, Daniel W. Thompson, Lynn Hoggard, Patty Somlo, Keith Buie, Nancy Ford Dugan, Edward D. Miller, John Ballantine, Bruce Bagnell, Dennis Scott Herbert, John Repp
Available this week on Amazon!