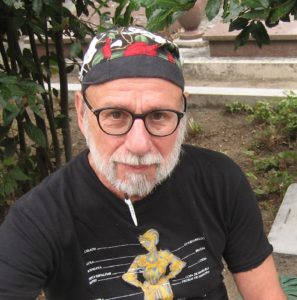 Age: A ripe 69.
Location: Pusan, South Korea
Education: BA (English) Duke University, MA, PhD (Modern Am Lit) Ohio University
The Writer
How long have you been writing?
Too long.
Do you have a specific writing style?
Some readers claim I do. That they could pick out a poem of mine even without my name attached.  This may not always be meant as a compliment.  At any rate: off the wall, darkly comic, mock erudite, an often untrustworthy narrator.
Do you see writing as a career?
Not by a long shot.
The Work
Tell us about your work in Crack the Spine.
"In the Cards" – a prose poem about a couple with an unsavory past and a probably bleaker future.
What inspired "In the Cards?"
Some years ago I stumbled upon a pack of really old fashioned black and white pornographic playing cards – very seedy people, very obscene poses — probably like the ones in the Flannery O'Connor story "Good Country People".  A very homely man and rather uncomely woman caught my attention.  What would their lives be like 20/30 years later?  The man a born again preacher and the woman bedridden and demented?  Of course I did not ask myself any such questions.  Just took the ball and ran with it.
Tell us about another project you have published or are currently working on.
I recently completed a short novel/novella (around 35,000 words) about a washed up stand up comedian living hand to mouth (he teaches comedy classes, for God's sake) on a resort island that has gone belly up. The island is being taken over by a gang of genetically enhanced rich people who are turning it into a nature preserve for a race of long lost apes brought back from extinction.  Current title: Justine: A Tale.
What inspired this work?
When I retired from teaching a while back I decided to give stand up comedy a shot. I had some young friends active in it and they welcomed me with their support.  Still, nothing is more challenging than trying to get a few laughs, believe me.  Eventually I came up with half a dozen six minute routines that worked okay.  (One has even been published in an anthology coming out from Main Street Rag Press.)  From that point on the story pretty much wrote itself – with a global cast of nice and not so nice characters, a plot and a hapless anti-hero, and a climax too deliciously naughty to reveal here.
Where/When can we find this work?
Though the ms made it to the "third round" at one press and was a semi-finalist in a contest at another one, I do not know if it will ever see the light of day.  De gustibus non est disputandum.
The Methods
Where do you write?
At my desk with a window overlooking the Pacific Ocean.
What are your thoughts on self-publishing vs. traditional publishing?
Ask a friend, then do the opposite.
What is your usual starting point for a piece?
A sentence.  Always a declarative sentence.
How do you react to editorial rejections of your work?
I weep profusely and then go on to other things.
How do you react when one of your submissions is accepted for publication?
I weep profusely and then go on to other things.
The Madness
What is your favorite book?
Perhaps Jane Austen's Persuasion—because I just finished helping my wife translate the thing into Korean.  Or maybe that makes it my least favorite book.
If you could have dinner with one fictional character, who would it be and why?
Becky Sharp.  As a writer I have a soft spot for psychopaths.
What is the greatest occupational hazard for a writer?
Taking oneself too seriously.
How many of your character have you ended up killing off?
Just one, as far as I can recall.  Poor gal, she didn't deserve it.  Though the killers thought she was asking for it.
What is the most beautiful thing you've ever seen?
The barcode on the cover of my first book.