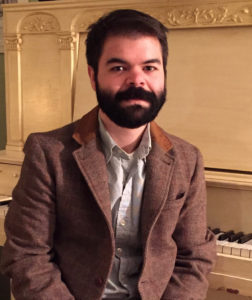 Location: Ann Arbor, MI
Education: Michigan State University, B.A. of English, Creative Writing
The Writer
Do you have a specific writing style?
I feel like I have two very distinct styles; one side of me likes to write satiric, absurd stories and the other side likes emotional, realistic fiction. What I tried to do with my debut novel was to balance this dichotomy.
What do you consider to be your greatest accomplishment as a writer?
Getting my debut novel published by Harvard Square Editions. TITLE 13: A Novel will be released in February of 2018.
What is your greatest challenge as a writer?
Finding the time to write and edit.
The Work
Tell us about your work in Crack the Spine.
"Industry & Idleness" is a story about a Midwestern woman who deals with the recent death of her husband in a unique fashion.
Is there a main theme or message in this piece?
Death is clearly prevalent in this piece, not just for its inevitability, but rather death against the background of marriage and gender stereotypes in the Midwest.
What inspired this work?
I started to wonder why some people ever get married.
Tell us about another project you have published or are currently working on.
I am currently preparing for the release of my debut novel, TITLE 13, from Harvard Square Editions in February 2018. It's a timely story about young man working as a civil servant in downtown Chicago who falls prey to absurd love, devastating addiction, and the satiric (yet increasingly and frighteningly real) malfeasance in our government.
Where/When can we find this work?
My novel will be published in February of 2018 and will be available in bookstores and online retailers everywhere. Also at my publisher's website: http://harvardsquareeditions.org/portfolio-items/title-13/
The Methods
Where do you write?
I write at my kitchen table. It's littered with newspapers, magazines, and my old Olivetti typewriter. I've never hosted a meal there.
What time of day or night makes you most productive as a writer?
Definitely between the hours of 12:00am and 3:00am. It's really inconvenient.
What are your thoughts on self-publishing vs. traditional publishing?
I certainly understand the need for self-publishing because it's so hard to get a contract, but for me, I really wanted to go the traditional route with an established and respected publisher; it was not an easy process, though. Kudos to anyone who publishes anything in any form!
What are your thoughts on writing at a computer vs. writing longhand?
I write all my short stories on a computer, but I wrote the first draft of my novel with a typewriter so that I could focus on each word I was writing. When you use a typewriter, it forces you to consider every mark you're putting on the page, and really slows the process down, obliging you to think about what you're looking to say. (Not to mention the fact that it also eliminates the temptation to get distracted online.) It was a major pain in the ass to transcribe it all onto my computer for later drafts, though.
How do you react to editorial rejections of your work?
I get the rejection letter printed out onto one of those sheet cakes and eat the whole cake.
How do you react when one of your submissions is accepted for publication?
I get the accepted letter printed out onto one of those sheet cakes and eat the whole cake.
What is your best piece of advice on how to stay sane as a writer?
Be mindful of your sugar intake.
The Madness
Who is your favorite author?
Probably either Don DeLillo, David Foster Wallace, Roberto Bolaño, Cormac McCarthy, or Ian Frazier
If you could have dinner with one fictional character, who would it be and why?
Capt. Yossarian from Catch-22, because I share his sympathies.
What is your favorite word?
Banana.
What's in that cup on your desk?
Ice water. Lots of ice.
What is the most beautiful thing you've ever seen?
The view of Lake Superior from the lighthouse at Whitefish Point.
Rain or Sunshine?
Rain.
Cats or Dogs?
Dogs forever.
Pen or Pencil?
Pen.
Additional Reading on Michael
Personal website/blog: http://www.michaelaferro.com/
Facebook profile or page: https://www.facebook.com/michaelaferro
Twitter profile: https://twitter.com/MichaelFerro
Poets & Writers profile: https://www.pw.org/content/michael_ferro
Goodreads profile: https://www.goodreads.com/author/show/17108839.Michael_A_Ferro