We are thrilled to present our first themed print anthology, now available for purchase!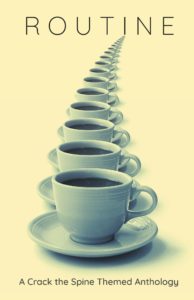 Routines are the sequences that drive our lives forward. Daily grinds and digital chimes serve as reminders that this moment is merely a precursor to the next moment. There is a balance that we seek, between our dependence on plans and back-up plans, and our desire to be surprised by the unpredictability of the world around us. When our routines fail, either by design or by happenstance, we are made more aware of our vulnerabilities and our true potential.
In this collection of prose and poetry, we see the concept of routine both celebrated and dismantled. From the cycles of work and survival, to the heady subjects of mortality and meaning, these stunning poems and stories challenge the reader's concept of what a routine is, and what it means when one is broken.
Contributors: Dionne Custer Edwards, Anna Davis Abel, C.L. Cummings, Laurel Radzieski, Reid McDonald, G. Paul Randall, Tara Campbell, Alex Pickens, Samuel E. Cole, Rob Carney, Christine Aletti, Ellen Wade Beals, Shay K. Azoulay, Dan Wiencek, Robin Landa, Bruce Sager, Gerard Sarnat, MEH, E. M. Stormo, Mark Gordon, Laura Lee, Bruce Robinson, K. B. Holzman, Sandra Sylvia Nelson, H. Martin, William Cass, John Timothy Robinson, Beth Bailey, James Croal Jackson, Meg Granger, Anita Goveas, Allison W. A. Price, Lucia Orellana Damacela, G. Sarmiento, Mara Buck, V. C. McCabe, Karen Lee Boren