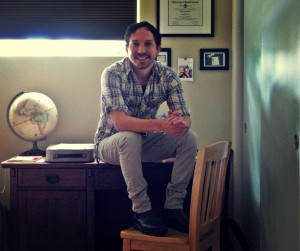 Calder Lorenz
Age: 35
Location: California
Education:MFA in Writing, at the University of San Francisco
The Writer
How long have you been writing?
I'm not sure that I can say precisely. I've been told that I wrote a story when I was ten, but I don't think I know that writing life, really. What I do know is that I loved reading at a young age. I loved film without understanding things like structure or characterization. I loved stories. I know that I had a big big imagination. That I lied. That I stretched things into other things. Sometimes I fabricated a lot but in a way that I felt was responsible. My parents were both substantial readers. And I lived with my mother, and I watched her read at an incredible rate. We had lots of books. It was around. There was a general discussion of stories. Words. Writing. Reading. I also know that I was inclined towards History, and English, and Home Economics, and Art classes in general. But other than that I feel like I really didn't participate as a student of writing. Of course, at a certain point, I feel like I didn't participate in lots of things that I would associate myself with now. By middle school, and then high school, I had bad grades and I wrestled and I sort of lived a life that always seemed like a physical and social scuffle. Part of that was fighting back against the meanness of that particular place and part of it was a lack of inspiration.
What I know for sure is that I first discovered the short story around the time I was living in Columbus, Ohio and I was attending Ohio State University. It was my first creative writing class and it clicked for me. I wrote a story about two best friends who were nearing the end of their criminal pursuits together. And I remember thinking, Jesus, you can tell stories for a living. You can make this type of art. I said to myself this is what I've been missing. It was definitely a moment for me when I said that I wanted to be better at something besides athletics and drinking and working some 9-5. It was when I knew that I wanted to understand how to craft something that people would read and respond to. I wanted to be a writer! I'm not sure that was the smartest thing I've ever thought up but it was the most internally fulfilling and now I don't see myself ever letting that feeling go. And after a long journey, one we don't have time for here, I found myself in San Francisco, I found other writers, and from there I finished five tremendous years of study and craft development. I got what I needed in order to be a writer. I was reborn, in a non-binding-biblical sense.
Do you see writing as a career?
I wish I did. I wish I didn't have a healthy understanding for the fact that it might not be possible. I think most of us who work in the arts wish the world was like it once was. Grants. Advances. Noble Persons. Real money given for writing. Now, I'm aware that there are certainly those of us who have been able to hit that spot where you don't have the financial burden hanging over you. That you can just create and craft and do what you love to do. But I also think you would be in a sad state of make believe if you thought that the landscape for writing is like it was. It's a sickness we share here. It's not everywhere, but we live in a country that prioritizes prisons and drones and unbridled wealth over art. The money isn't there and the collective will isn't there but that doesn't mean we give up in the face of that. That we back down from what we love and what we know we can offer the world. We take on other means of financial independence. We teach. We write in all forms. We work in restaurants. We struggle. And we adapt to the economic landscape. We get creative. We find what and who will collaborate with us, who will support us in our struggle to be free. And what gives me hope is not the small circle of folks who have achieved a high level of monetary success, that will always be there for some, maybe me, maybe you, but what gives me real hope is that despite the very real obstacles of trying to write as a career (especially fiction), there is always the knowledge of what it takes to create worlds, and characters, and books, you have to understand that there is the 'doing the work' part and there is the love for what we do. I would like to be paid to write, there is no question. I would like to exchange bread for my writing, if that was our economic reality. I'd barter the heck out of some fiction but I'd also keep writing because it is essential to how I relate to the world. Whether someone says you can do it, 'here's some money,' or they don't, you define a career by what you put into it. What you create. For you. For others.
Do you write full-time?
At the moment I am writing five days a week. I am working nights to support that until I finish my third book, a collection of shorter stories. One of which you published here: "New Year's Day in the Northwest." It took some time but I developed a system of writing that works very well for me. I am very project driven. So, when I wrote my first book, I saved up for about 2 years, and during that period, I thought, I made notes, I wrote short pieces, and then I headed to Montreal, Quebec and spent four months in a little Italian part of town, on a street called Rue Beaubien. I ate fresh pasta and I rode bikes with my Canadian family, and I worked almost every single day on the manuscript. It was an eight hours a day gig. It was a 9-5. Ten drafts later I returned to San Francisco and then started the process over again. It took two years of saving and working and then I went off and completed my second manuscript this past fall. The in-between times are when I like to read as much as I can, and I also write shorter stories. I like to think of it as training. I suppose it is modeled after my time wrestling. You work very hard when you are off the mat in order to be ready for that rare opportunity that comes along and then you make a plan and then you execute. You do the best you can and you don't regret anything. You don't sit around thinking. There is a time for that and there is a time to write, write, write.
What is your greatest challenge as a writer?
Probably knowing when to be brief. Knowing when to help your reader take a breath. To say less and show more. To let your characters speak for themselves. To listen to your stories. To always keep a pen with you. To drink less so you can write more. To not care what people say to you, but to care a lot about what people say about their experience with what you've written. And to learn how to navigate the landscape beyond the writing, if you want to get published, have an agent, sell books, that sort of thing is not an easy road but with time and some good people who support you, believe in you, love you, anything is possible.
The Work
Tell us about your work in Crack the Spine.
"New Year's Day in the Northwest." I guess I wonder more about what you would say about it? (laughing to self). But I can say that I did edit this piece down to fit it under a thousand words. That was hard but oh so much fun. Editing is my favorite part of writing. I don't enjoy the creation part. Or I should say, I don't like it as much. Editing is where it's at. Where you and your story grow up together. Where you understand each other. It is such a huge challenge and I learn more about the craft that way. I love writing longer pieces and then working to cut all kinds of things I like, or find I now dislike, in order to capture more of a complete moment than a lifetime. So, in this case, the final version, which will appear in my story collection, reads a bit differently. But I would say that it is about a woman named Sil, who finds herself at the start of what may or may not be another year filled with wanting something else. And as the story unfolds, she takes in the people who surround her life and she decides to reach out to perhaps the one person who can lead her somewhere new. Or at the least, back to where she started.
What inspired this work?
It was place. I am working on a manuscript entirely based around place. So each story is labeled with where it takes place. Everywhere from Arlington, Virginia, to Gainesville, Florida, to Hamilton, Ontario and on and on. This particular story is set in a house that I once lived in, many years back when I was living in Vancouver, British Columbia. In a part of that town called Commercial Drive. I wanted to create from this place, this feeling I get when I think of it there, because it is such a great set piece for me. And then I can access that climate and those walls and how the place was constructed. And then I can start with an opening line and then a character appears and then they speak and then we're off and running with it all, well, off and writing.
Tell us about another project you have published or are currently working on.
Currently, I am working on a collection of what I am calling, Shorter Stories, and it is titled: The good road gone. Two excerpts can be found with the fine folks at Literary Orphans and gravel. And of course here, with your lovely magazine. Each story is at the most two-thousand words and it is something I have really enjoyed putting together.
I was on the verge of taking on the mighty task of completing my third novel, but I went to the Los Angeles Times Festival of Books and was lucky enough to attend a fantastic panel of talented writers. It was a talk about short stories specifically and the panel included, Aimee Bender, Kelly Link, Amelia Gray, and Jonathan Lethem. After that talk, I decided that the time was now to put out my first collection of short(er) stories. Part of that is the fact that agents and publishers are opening up to the style and length of these works and part of it is something I had thought about for some time, which is that there is a real market for this type of story telling in our attention strapped society. Which is fine with me because I love writing short pieces and I'm happy to be back working with these types of boundless little worlds. I felt like I wanted to create something that anyone could pick up and open and start to read at any point in the book and then hopefully become lost in the story they had found. And then check their phone and then like something and then tweet about what they liked and then walk around in a circle and then read some more! Look a squirrel!
Where/When can we find this work?
Two shorter stories from my collection The good road gone can be read here and here:
Gigi's, in the electronic pages of gravel.
Now What, in the electronic pages of Literary Orphans
The Methods
Where do you write?
It depends. I always need a desk. I like to have space. I like to have access to books and pieces of paper I have found (articles, or newspapers) or thoughts I have scribbled down. I like my typewriter. In Montreal, for my first novel, I had a big old drafting table and I had these vaulted ceilings and a window that was high up, so I could only see the sky. For my second book, I got about six library cards and went around getting to know the Southern California library scene. I became like all the other unemployed daytime library people. I sat wherever there was a plug and an open space. I snuck in my coffee. And now I'm back to a desk. But the window is high up and I can only see tree branches and the sky and sometimes the parrots that squawk above our place.
What are your thoughts on self-publishing vs. traditional publishing?
I'm a big believer in collaboration. I wouldn't be where I am without my trusted group of readers who are always available when I need them. To the teachers who showed me so much. I think that as solitary as writing is, it needs as much care and attention as any other form. It needs lots of minds working to make it as good as it can be. And while self-publishing is an extension of the landscape we see. I think we need to embrace a more creative approach to this process and evolve how we allow the door to open for those who are struggling to get their work out there. We need less gatekeepers and more collaborative independent ways or means to get work seen and more importantly, read. There are some great examples out there: Electric Literature, tNY.Press, and Two Dollar Radio are just quick examples of places that shrugged off the traditional publishing model and changed the landscape. We are better off with support and vibrant models that bring out the best in folks. And I feel like we are at the very beginning of what the world of literature will look like as we go forward.
How many drafts do you generally go through before you consider a piece to be complete?
I would say that when a piece is done, it's done. Until it isn't again. I find with novels that the process is much different than with short fiction. A novel takes drafting up a notch. There is so much content and so many advanced readers and then drafts dedicated to what you get back and then editing and then more editing, that you might as well get yourself ready for any number of drafts. It is sort of a, "whatever it takes," mentality. But short stories, at least for me, have a start and stopping point. The beginning and the end. That rarely changes after the first or second draft. Once I get that, it is a matter of polishing what is in-between. And that might take me many drafts but it is a different beast. That said, I might read something a year later and I could, if I needed or wanted, re-draft it into something like a book length work, but generally, I let my short stories live as they lived before. As they always will. It becomes a matter of saying, can I turn this into something else, like a novel. And then the drafting would start all over again.
How do you react to editorial rejections of your work?
I keep a folder in my email. I let the rejections live there. And that way I can figure out who and where I have submitted in the past. That way I can re-submit with newer material or something that might be a better fit. Rejection is a real motivator for me. If I get rejected, and I know it is a good piece, something I believe in, then I look around and re-submit to places that seem like our styles would work together. Also, I take the responses I get from editors that seem genuine, seriously. If they say they want to see more in the future, I will submit again. There's no rest for the wicked. And no rejection worth falling to pieces over. As my friend says, "Do the work." Work harder if you need to. Believe in what you have and at the end of the day, put yourself out there. Or don't. You get to decide that.
The Madness
What is your favorite book?
What a question! I would say that if you love to read and if you find yourself in the midst of a lifetime affair with literature, then one book is by no means enough. Picking favorites is never a good thing to do! That said, I'm in a committed and loving relationship, so I do know the extraordinary feeling of finding 'the one.' And, so, if I was tasked with heading off to some great couch in the sky, with only one book to read, well, that one book would be, One Hundred Years of Solitude by Gabriel Garcia Marquez.
But then again, just one book!
I feel like I'm cheating here but there are so many others, The Book of Daniel (E.L. Doctorow), The Quick and the Dead (Joy Williams), The Sisters Brothers (Patrick DeWitt), Senselessness (Horacio Moya), Oryx and Crake (Margaret Atwood), anything by Nadine Gordimer, Motherless Brooklyn (Jonathan Lethem), and if you are looking for newer great reads, might I suggest the fine pages of The Free (Willy Vlautin), The Fates Will Find Their Way (Hannah Pittard), Forest of Fortune (Jim Ruland), and of course Joshua Mohr, whose fantastic new novel, All This Life is hitting the streets this summer.
Who is your favorite author?
Eduardo Galeano. And then head back to the above question.!
What is the greatest occupational hazard for a writer?
I'd say getting bogged down in what could be when you haven't sat down and done it. If you create something and it's no good, then that is that. Throw it away and start over. Also, I think we can gloss over drugs and alcohol. That is too obvious. We get more done when that isn't a reality. But it's taken down many good people. Of course it regurgitates them too. How about a lack of good music? Or saying there isn't enough time, because you're right, there isn't. And the other would be if you believe what people want you to believe about your work when they are actually talking about their work. For an example attend any workshop in graduate school.
Who would play you in the film of your life?
I'd need a good short Italian guy. Hmmmm, I wonder if those exist here in America! Of course, with the right kind of Hollywood magic, they'd probably cast James Franco. And he'd make a big show of walking around on his knees. And then he'd write a novel about it. And it would sell a million copies. No hate James! I follow you on Instagram!
What makes you laugh?
I went and watched, Wild Tales by Damian Szifron. That made me laugh. The stories are dark and the humor centers around the moments in everyday life that drive you crazy. It has characters that are pushed to the point of absurd violence or revenge but there is a moral undercurrent throughout. I think we have to be able to laugh at this world, at ourselves, at the silly things that drive us crazy. Also, my Dad makes me laugh.
What is the most beautiful thing you've ever seen?
This is very much like the one book question. I used to work in the Tenderloin, San Francisco, at a place called St. Anthony's Dining Room, and it is a place where beauty is something you would not notice if you weren't paying attention. It is a place that is easy to walk on by. It was there, in that hard living, at times, filthy place, that I watched people help other people in ways they never thought possible. I saw people listen and talk and turn people back into people. I saw life lived at its worst and I saw what happened when you took a moment to hear someone out or give them a hug, shake their hand, or even save their life. And sometimes you couldn't do any of that, you watched them slip away from the world, but I found what it means to treat people with the respect and dignity they deserve, no matter who they were or what state they were in and that is as good as the other beauty I've seen: the fields of wild flowers and the tops of mountains and oh man, the expanse of the Pacific Ocean and the beauty of the hand I get to hold everyday! There is so much to see when we watch and we pay attention to what is right in front of us. When we treat people and the planet like they are precious things.
Rain or Sunshine?
Are we talking about Texas or Portland?
Beer or Wine?
Red wine and then a beer for dessert!
The Beatles or The Rolling Stones?
You can have both, I'll take, Please Inform the Captain
Additional Reading on Calder
Twitter profile: @calderlorenz