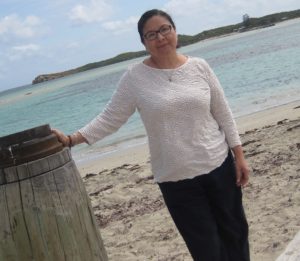 Age: Old enough
Education: PhD in Social Psychology from Loyola University Chicago.
The Writer
How long have you been writing?
I started writing poetry and short stories in Spanish in high school and continued until my early college years. After a very, very long hiatus, I re-started writing in 2014; this time both in English and Spanish.
Do you have a specific writing style?
Many of my poems have some narrative elements; you could call it hybrid. I love experimenting, trying to find that precise way in which the materiality of the lines, of the words (sound, length), the sensorial impressions and universes of meaning they evoke 'click' with what I want to convey in that piece. Several flash fiction pieces I wrote started as poems and then organically evolved into fiction.
What is your greatest challenge as a writer?
It may be that, since I am not a native English speaker, I invest a lot of extra time editing my work.
The Work

Tell us about your work in Crack the Spine.
Title is Give Away. It is a micro-fiction piece about a female superhero with access to an invisibility substance (like a spray) that she can apply to herself and to pieces of clothing, etc. One rainy day she goes out with an untreated umbrella and people are able to see the umbrella floating along the sidewalk.
What inspired this work?
I first wrote a poem (unpublished) about a very inconspicuous man, to whom people didn't pay any attention. To convey that sense of being 'invisible', I created this image of him walking in the rain and the only visible thing was the umbrella. I thought that was a powerful image and started playing with it. What if…it is a woman instead, and the 'invisibility' thing is real rather than metaphorical. That is how Give Away was born.
How long did it take you to complete this piece?
The original poem underwent a few iterations over a couple of months. Writing the micro-fiction from the poem was much quicker.
Tell us about another project you have published or are currently working on. 
I am currently working on a poetry manuscript (actually, on a couple of them). Working on the titles too.
Where/When can we find this work?
Nowhere yet. Some poems have been published individually in different venues (all listed in my blog).
The Methods
How often do you write?
Almost every day
Where do you write?
Mainly in my home office. My desk sits next a large window where I can enjoy mental breaks by looking at the Singapore skyline. Sometimes I write at coffee shops.
What time of day or night makes you most productive as a writer?
Early mornings, but also late in the evening.
How many drafts do you generally go through before you consider a piece to be complete?
It varies from piece to piece, but it is usually a constant process of reviewing until my time is up, if I have a deadline, or until I feel relatively satisfied with the piece. If I let it rest for a while, when I go back to the piece, I am always able to squeeze in a few more edits.
What are your thoughts on writing at a computer vs. writing longhand?
I do longhand once in a while, mainly when writing on the go. Usually, I get some plot idea, lines for a poem and so forth, and jot it down right away. Then, I take great pleasure in transferring it to a clean-looking blank page on my laptop, to start developing and chiseling that germinal idea.
What is your best piece of advice on how to stay sane as a writer?
Nurture other sources of joy and self-fulfillment. Join a local (or online) writers' group, surround yourself with people you can trust and are willing to help each other to develop as writers. The most important one: Don't give up…and keep writing. Too much advice, I know. Besides, what is wrong with a bit of insanity?
The Madness
What is your favorite book?
There are many. Perhaps One Hundred Years of Solitude
Who is your favorite author?
Again, many; if I have to choose one, it would be Gabriel García Márquez. Or Borges. Oh the worlds they create with their words!
What is the greatest occupational hazard for a writer?
Back pain? Also that people may start being somewhat more guarded or self-conscious about what they tell you, perhaps for fear –or hope- that it will end up in your writing.
What is your favorite word?
Many contenders: Panacea, Daffodil, Serendipity, Solitude, Solace, Evanescent, Labyrinth.
What is the most beautiful thing you've ever seen?
My babies at birth
Chocolate or Vanilla?
Coconut, Strawberry, Pistachio
Beach or Mountains?
Both, also cities
Cats or Dogs?
Love mine.
Additional Reading
Personal website/blog: notesfromlucia.wordpress.com
Facebook profile or page:
Twitter profile: @lucyda
Poets & Writers profile: pw.org/content/lucia_damacela